Together, we can work to get life back on track without breaking the bank.
We'll get your check cashed and quickly have you on your way
Avoid overdraft fees and credit card debt with prepaid cards.
Applying online is quick & easy!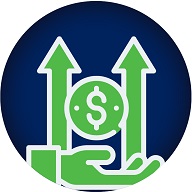 Installment
Loans
Get EZ Money With Our Financial Services
FAST, FRIENDLY SERVICE.
Have unexpected expenses that can't wait until payday? If an unanticipated expense means you need money now, EZ Money is here to help.
With our quick-and-easy payday loans and other loan services, your financial needs can be taken care of with little wait time—just take a quick trip over the river into Iowa for easy, affordable payday loan options!
DO YOU NEED CASH NOW?
Cash advances like payday loans can help hold you over financially until payday. These are small cash loans that provide fast, easy financial assistance and a simple repayment plan. When you're in an urgent financial crisis, you need help quickly, so our team works diligently to ensure you get your cash advance as quickly as possible.
APPLY FOR A LOAN WITH EZ MONEY
Our Iowa payday loan options are ideal if you need some fast cash between paychecks. Lincoln residents just need to take a quick trip over the river into Council Bluffs to get you the money you need now!
YOUR ONE-STOP-SHOP FOR FINANCIAL SERVICES:
WE'LL GET YOUR CHECK CASHED QUICKLY
Cashing your checks shouldn't be a chore, but when your work schedule keeps you from visiting banks during regular hours, you may find it difficult to get your hands on your money. At EZ Money, we work around your busy schedule to make it convenient for you by staying open later than most banks for fast, easy, and reliable check cashing.
TURN YOUR GIFT CARDS INTO CASH
Not excited about the gift card you received for your birthday? Exchange it for cash at EZ Money! Come in to any EZ Money location to swap your unused or unwanted gift cards for quick cash. It's a simple process—bring in your old gift cards, and we will evaluate them to give you a fair price!
WE CAN HELP WITH MONEY TRANSFERS
At EZ Money, we have the resources available to make your money transfers fast, simple, and secure. Our partners at Western Union can help you transfer money to anyone, anywhere, and anytime. We also offer the ability to track your Western Union money transfer online once its been completed for added peace of mind.
CONTROL YOUR SPENDING WITH PREPAID CARDS
Looking for a safer, more convenient way to control your spending without carrying cash? Don't agonize over whether or not opening a new credit card is worth it—opt for a prepaid card from EZ Money! They offer most of the same benefits as credit cards, so you can decrease your debt without accruing interest because you're only spending funds you've preloaded onto the card.
BILL PAY MADE EASY
Remembering to pay your bills on time is hard, but paying the late fees associated with missed payments is even harder. Why put yourself through that every month? EZ Money can automate your payments! We're here to make things easier and help you avoid stressful financial situations with our bill pay services.
WE GIVE EXPERT ADVICE ON BITCOIN
Are you interested in Bitcoin and cryptocurrency, but have a hard time understanding exactly what you're investing in? Then let the experts at EZ Money help you understand exactly how Bitcoin transactions work. We can teach you all of the complexities of digital currency and provide education to protect you from tricks or scams.